Polycarbonate Gazebos are an Excellent Solution for a Summer Residence
Garden gazebo for summer cottages made of polycarbonate is a multifunctional building in which people not only relax, but also organize picnics and small holidays.
The main advantages of a polycarbonate gazebo for the yard: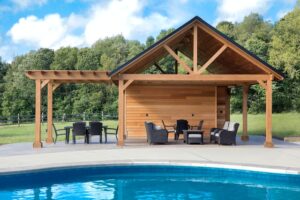 This material is practically weightless, which does not require massive structures, and is also convenient for installation.
It is better to make a canopy with normal protection from precipitation, and it is not difficult to bend the plastic into any arc for summer gazebo.
For external buildings it is worth choosing a sheet thickness of 6-8 mm.
Light transmission. Unlike slate and profiled sheets, polycarbonate allows light to pass through.
Many colors to choose from. However, do not forget that light or transparent polycarbonate will not protect from sunlight, and colored polycarbonate will distort a lot in its shadow.
Glass is easy to break, and its shards can cause you to cut yourself. In this sense, polymer plastic is considered a safe material. In addition, it is a low-flammable product.
Since polycarbonate is not afraid of heat and fire, you can install wood stove, in such a gazebo for cold weather. A stove for any gazebo is a harmonious addition that can not only decorate a relaxation area, but also become a functional source of heat, and at the same time a place for cooking dishes over a fire or smoky coals. There are enough options for the design of the heating stoves; the materials used open up a flight of imagination, limited only by the imagination of the author.
A portable grill, barbecue or wood stoves is suitable for a gazebo of any size and design. Their advantage is mobility; they can be placed outdoors, disassembled, or put in a closet when not needed to save space.